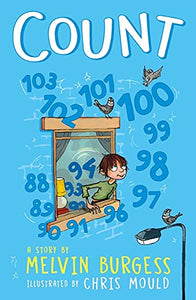 Count
LE 275.00

LE 275.00
Tax included.
Shipping
calculated at checkout.
---
---
Brandon is a boaster – he says he is brilliant at lots of things. Then he is challenged to count up to ten million. So Brandon starts: one, two, three . . . and before long he is up to one thousand. Everyone around him is bewildered and annoyed: his friend Waris, his teachers and Miss Hexx, the head. But Brandon can't stop counting. And the higher he counts, the more everyone takes an interest, when Brandon reaches 30,000 he goes viral, by the time he gets to one million, he has a manager and a stadium full of fans counting with him. And then strange, impossible things start happening. The numbers are taking over everything . . .
A fun and contemporary story about rise and fall of celebrity, and ultimately staying true to yourself.
---
We Also Recommend
---