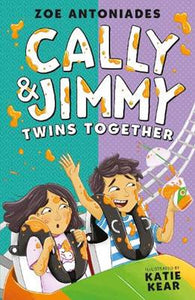 Cally & Jimmy: Twins together
LE 212.40

LE 212.40
Tax included.
Shipping
calculated at checkout.
---
---
Cally and Jimmy are 10-year-old twins who couldn't be more different. While Cally is sensible, clever and hard-working, Jimmy's ADHD makes it difficult for him to focus or stay calm, and trouble seems to follow him everywhere. Despite their differences, as twins they're in it together, so when Jimmy gets into bother, Cally invariably becomes involved too. Their separated parents have a friendly relationship, and the twins live with their mum and Cypriot grandmother, Yiayia, and stay with Dad in his flat every other weekend.
This book contains four short stories about the siblings, which are full of humour and heart. Their adventures include looking after – and losing – the school hamster during half term; building snow sculptures with Dad on Clapham Common, which nearly ends in disaster when Jimmy ventures too close to the frozen pond; and an eventful trip to the fairground with Yiayia.
Each page of this entertaining collection contains crisp, black-and-white illustrations, which perfectly capture the ups and downs of the twins' escapades. The tales feature situations which may be familiar to many readers, such as sibling rivalry, parental separation and everyday scrapes, which always turn out ok in the end.
---
We Also Recommend
---