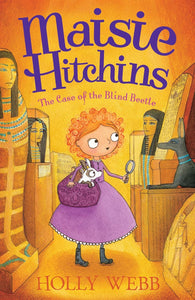 Maisie Hitchins the case of the blind beetle
LE 250.00

LE 250.00
Tax included.
Shipping
calculated at checkout.
---
---
Maisie Hitchins longs to be a detective. She's sure there are lots of adventures to be had on the streets of Victorian London. And, together with her faithful puppy, Eddie, she is determined to follow even the slightest scent of a mystery – no matter what!
On a visit to the British Museum, Maisie meets Lord Dacre, whose most prized possession – an Egyptian scarab beetle made of gold – has been stolen. The lost artefact turns up on the bank of the Thames, but it's missing its precious ruby eyes. It's up to Maisie to find out who the thief is.
Exciting detective stories from best-selling author Holly Webb, perfect for fans of The Mariella Mysteries.
---
We Also Recommend
---