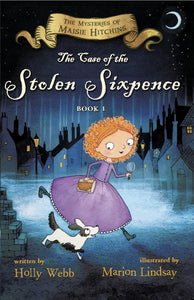 Maisie Hitchins the case of the Stolen Sixpence
LE 250.00

LE 250.00
Tax included.
Shipping
calculated at checkout.
---
---
In the tradition of the Sherlock Holmes mysteries comes The Mysteries of Maisie Hitchins!Twelve-year-old Maisie is a 
noticing

 
sort of person. Thats why she is convinced she would make an excellent detective if she ever got the chance! But instead of detecting, she spends her days polishing the banisters at her grandmother's boarding house or fetching fish for the lodgers' dinner. In 
The Case of the Stolen Sixpence,

 
Maisie's big chance to prove herself finally arrives when crime strikes her Victorian London neighborhood. While the grown-ups turn a blind eye to the whodunit and justice goes un-served, Maisie and her canine sidekick, Eddie, search the streets for clues to crack the case.This first book in a series features black and white illustrations and a rollicking mystery complete with tricks, disguises, danger, and a little dog too!
---